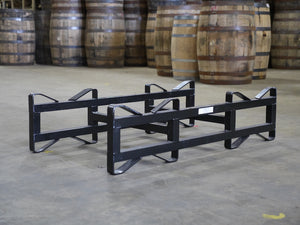 Manage your smaller format barrels with ease and style. Fork liftable, pallet jack able and stackable (up to 4-5 high). 7 in Refurbished "LIKE NEW"" 15/20g 2 Barrel 2 bar sand blasted powder coated barrel black. Will also hold larger 25/30g barrels as your production grows. Ships in pallets up to 22 racks to save you $ on shipping. New racks sell for $150+. Enquire about wholesale or volume discounts.
This product is available for purchase online! Add to Cart and follow the checkout instructions to complete your purchase.
If you have any questions about this product, don't hesitate to email info@barrelbroker.com
SHIPPING COSTS:
$79 or less to Illinois,  Iowa, Minnesota, North Dakota, South Dakota,  Wisconsin & parts of NB & MO. We will contact you after you purchase your product with the lowest possible shipping rate and bill you for shipping with a separate transaction.  If you don't like our shipping quote, you can cancel your order with a full refund.