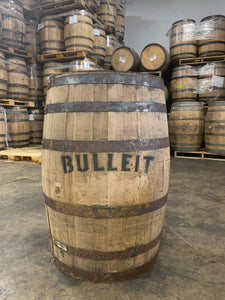 53g Bulleit Bourbon barrels with large stenciled logo on the side. Head bunged. These barrels held beer previously. Bands are tight and barrels are clean, never been outside and will make a great whiskey cabinet, display barrel, display in your man cave or deck or gift. Taking orders now to ship to your home/business and will sell out with this rare side stencil/logo. 35in tall 25in wide. American Oak barrel.
This product is available for purchase online! Add to Cart and follow the checkout instructions to complete your purchase.
If you have any questions about this product, don't hesitate to email info@barrelbroker.com
SHIPPING COSTS:
$105 or less to Illinois,  Iowa, Minnesota, North Dakota, South Dakota, and  Wisconsin & part of NB & MO. All other lower 48 states $239 or less. We will contact you after your purchase with the lowest possible shipping rate and bill you for shipping with a separate transaction. If you don't like our shipping quote, you can cancel your order with a full refund.