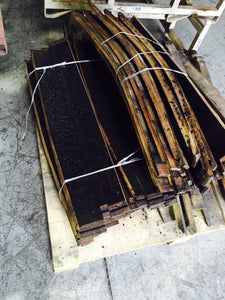 53g Whiskey Barrel Staves, approx. 30/barrel, 35 in long, 2-5 in wide, charred black on the inside. Double banded and stretch wrapped for secure shipping with UPS Ground. Perfect for DIY projects. 75+ lbs.  19.45 sq ft per barrel.
This product is available for purchase online! Add to Cart and follow the checkout instructions to complete your purchase.
If you have any questions about this product, don't hesitate to email info@barrelbroker.com
SHIPPING COSTS:
$89 or less to WI, IN, Illinois,  Iowa, Minnesota, North Dakota, South Dakota,  Wisconsin & parts of NB & MO.  We will contact you after you purchase your product(s) with the lowest possible shipping rate and bill you for shipping with a separate transaction.  If you don't like our shipping quote, you can cancel your order with a full refund.