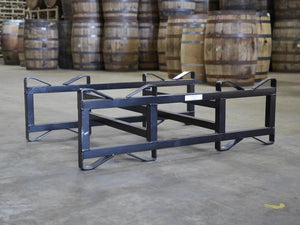 7in 2 barrel 2 Bar Refurbished black (Like New) Rack for 53/60g barrels. Industry Standard & Best Seller! A go to for serious barrel stacking with a standard pallet jack and fork lifting from all 4 sides. Can stack up to 5-6 high. In stock but sell out often with a 2-3 week lead time. Buy today. Our price wont be beat.
This product is available for purchase online! Add to Cart and follow the checkout instructions to complete your purchase.
If you have any questions about this product, don't hesitate to email info@barrelbroker.com
SHIPPING COSTS:
We will contact you after you purchase your barrel rack(s) with the lowest possible shipping rate and bill you for shipping with a separate transaction. If you don't like our shipping quote, you can cancel your order with a full refund.